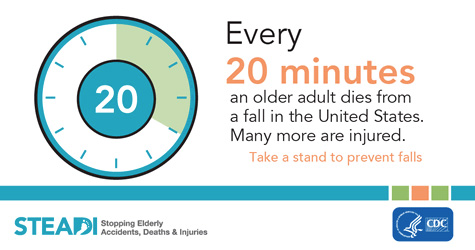 Falls among residents of skilled nursing facilities are the leading cause of injury, hospital admissions and lawsuits for nursing home operators.  Falls among adults aged sixty-five and older are incredibly costly. Each year about $50 billion is spent on medical costs related to non-fatal fall injuries and $754 million is spent related to fatal falls. 
The Centers for Disease Control & Prevention (CDC) reports that documented falls in LTC are 100-200 per year per 100 beds and average facility cost per fall may exceed $17,000. Note the CDC also states the average hospital cost for a fall-related injury is $35,000.
Falls rank as the leading cause of injury and death for seniors, according to data released by the Center for Disease Control and Prevention CDC). A third of older adults reported falling at least once the previous year. 
Older adults suffer an estimated 29 million falls per year, leading to seven million injuries and about $50 billion in Medicare costs. Falls are to blame for more than 27,000 senior deaths annually, according to the CDC. Officials urge healthcare providers to incorporate fall prevention activities into care routines.
For over 30 years Personal Safety Corporation has offered the highest quality fall management & wandering prevention safety products at the lowest factory-direct prices. Our Secure Safety Solutions patient safety products help nurses, caregivers, nursing homes, hospitals, and other healthcare facilities reduce fall related injuries. 
PSC's goal is to help prevent injurious falls amongst those who are at the highest risk of falling by offering only the highest quality fall management and wandering prevention products that are highly effective in monitoring and protecting elderly fall-risk patients living in a nursing home, hospital, or residential environment.
Our competitively priced products also help nursing home operators reduce the cost of their facility's fall management program without sacrificing product quality. PSC stands behind every product sold with industry-leading product warranties, friendly & knowledgeable customer support, and hassle-free product returns.
The patented Wireless Patient Monitoring System, Caregiver Alert System, wired & wireless bed and chair exit alarms, bedside safety floor mats, hip protectors, wheelchair positioning cushions, and other elderly safety products help nurses & caregivers maintain the dignity of the resident, patient, or loved one while allowing for effective monitoring of the resident by the caregiver. Many of our patient monitoring devices can be set to not alarm in the patient room and remotely notify nurses and caregivers up to 500 ft. away when a fall risk individual attempts to leave the bed or chair.
Check out our full line of Secure Safety Solutions products today!